Network Engineer
Except for some school experiences, I have two main experiences with network engineering. Most of my networking knowledge I got in my first full-time job. I worked for one of the biggest internet services providers in Prague, the capital city of the Czech Republic. I started there as a common technician, which manually installed network devices, mostly wireless APs and receivers. I soon worked my way up to the project manager position, who proposed modifications to the whole network. Daily I designed new transmitters, adjusted the hardware structure of the entire network, assigned work to colleagues, and much more.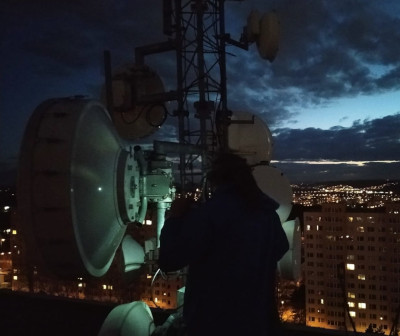 Network engineering and managing are the main work in my actual job. I'm working as a head network engineer at one of the faculties at one of the largest universities in the Czech Republic. Every day I analyze whole network traffic, improvind firewall policies, connecting new devices to the network and doing general IT support for our users. Periodically I also actualizing switches, routers, acces points, firewalls and other network devices or design and implement network upgrades.
During my career as a network engineer, I met a lot of network devices and software developed by various companies. I worked most of the time with Mikrotik devices - their RouterOS system I know very well. In my last job, we had most of the network elements from Aruba (HPE). Among other manufacturers whose devices I have worked with, I could name, for example, Ubiquity (in most cases Unifi), Cisco, Juniper, Alcoma, TP-link, Netis, etc.